It's a brisk rainy fall Monday morning as I pull onto the campus of Pomfret School, a small (mostly) boarding high school in eastern Connecticut. 

I spent the previous night in Providence, Rhode Island, exploring a city I'd only briefly visited (in 2016 for a performance at Brown) and drove the 45 minutes northwest through a setting indistinguishable from rural Ohio.

My contact, a genial English teacher, pulls up in a Volvo and he and I hit it off immediately.  I'll be performing for his class of about a dozen seniors who have spent the fall quarter reading the Odyssey and only the Odyssey. 

So basically, my perfect audience. 

We walk into the performance venue and I'm floored: it's a small but high-ceilinged lodge-like room with a fireplace and a collection of big comfy chairs: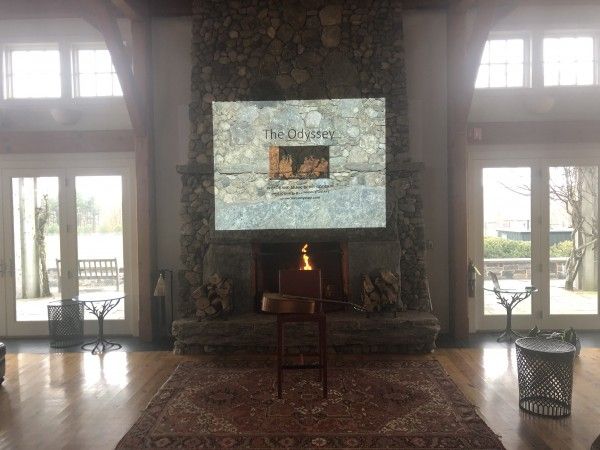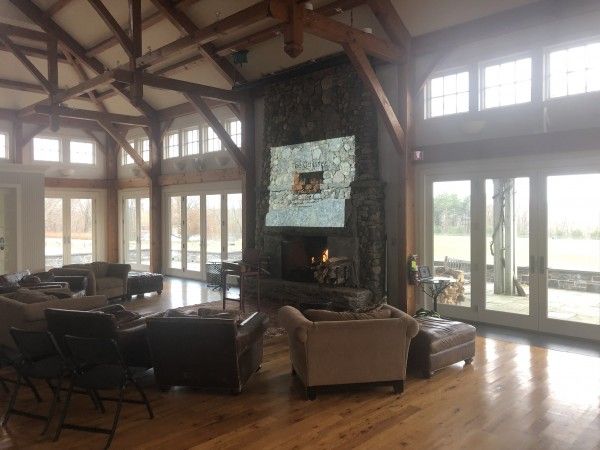 This is about as close to my vision of a performance space as I've come across in nearly 300 performances, spatially similar to what I image a Bronze or Dark Age bard might have encountered right down to the fire (but minus the terrible hygiene and drunk Greeks). 

This was likely my last performance of 2019, a transition year of sorts, with fewer performances but a lot more planning and creating, really the natural end of a big booking push I started all the way back in 2014.

The students get seated and I'm off into the piece.  

My voice echoes through the rafters and every time I come to a dynamic pause I can hear the fire behind me crackle in the absolute silence. 

It's magical (in a different way but of a similar magnitude as the last performance of 2018 at Bowling Green State was). 

A wonderful discussion, a quick lunch with my contact, and I'm back on the road towards the Providence airport for my flight home.  

In 2020, I'll hit some significant milestones with important Odyssey shows in the US (completing performances in all 50 states) and (for the first time) an extended tour of Europe.  I'll also begin to more formally unveil a new Homer-related performance, a retelling in song of the events of the Iliad, entitled The Blues of Achilles.

Almost too poetically, this is the end of the tenth year I've been a full-time musician and 2020 feels like, despite all the travel, I'll finally be fully at home in my identity as a modern bard. 

Now I just need to find an oar that can double as a winnowing fan. 

Or maybe I don't.